Australia is a treasure trove of stunning landscapes waiting to be explored, and there's no better way to experience the great outdoors than through hiking. Ready to kick off your next holiday with an unforgettable outdoor adventure? Whether you're a keen hiking enthusiast or just craving a relaxing, leisurely stroll in nature, there are plenty of trails to get out and explore near many of our Hampshire Holiday Parks Australia-wide. In this article, we'll be your guide, taking you through some of the finest hiking trails, categorised by state and region.

Lucinda and Hinchinbrook Island: Thorsborne Trail Located in the stunning Hinchinbrook Island National Park, the Thorsborne Trail offers hikers an incredible 32-kilometer trek through lush rainforests, pristine beaches, and rugged terrain. Keep an eye out for unique wildlife, including the elusive and endangered cassowary.

Stay: Make your stay comfortable at BIG4 Lucinda Holiday Park.

Whitsundays and Airlie Beach: Conway Circuit For a more moderate hike with breathtaking coastal views, head to the Conway Circuit near Airlie Beach. This 27-kilometer trail takes you through eucalypt forests and offers glimpses of the famous Whitsunday Islands.

Stay: Explore the region from BIG4 Whitsundays Tropical Eco Resort.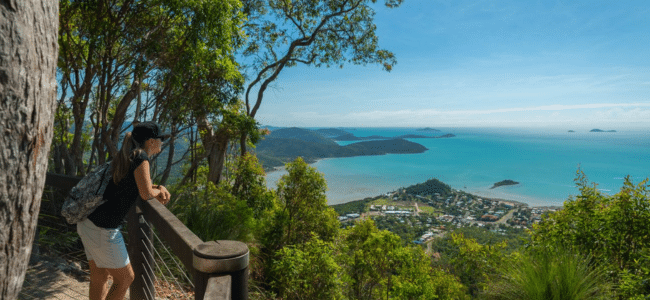 North Durras Beach NSW: Durras Lake Discovery Trail Explore the stunning South Coast of New South Wales on the Durras Lake Discovery Trail. This 6-kilometer trail meanders through diverse landscapes, including lakes, forests, and beaches. Don't forget your binoculars for bird-watching!

Stay: Experience North Durras Beach at Joalah Holiday Park.

Valla Beach and Port Macquarie: Sea Acres Rainforest Boardwalk While not a traditional hike, the Sea Acres Rainforest Boardwalk is a delightful 1.3-kilometer stroll through the lush coastal rainforest near Port Macquarie, along an elevated boardwalk. It's a perfect option for families and nature lovers.

Stay: Enjoy your stay at Valla Beach Holiday Park.

Hallidays Point, NSW: Black Head Coastal Walk Discover the beauty of Hallidays Point with the Black Head Flora Reserve Walk. Whether you're looking to do a section of the trail or are fit enough to do the whole thing, this stunning 9-kilometer trail winds along the coast, offering panoramic views of the Pacific Ocean and the chance to spot dolphins and whales during the migration season.

Stay: Choose from BIG4 Happy Hallidays Holiday Park or Lakeside Forster Holiday Park.

Wallaga Lake and Bermagui NSW: Mount Gulaga (Dromedary) Mount Gulaga, also known as Dromedary, is an iconic peak in the Wallaga Lake and Bermagui region. The hike to the summit is challenging but rewarding, offering panoramic views of the coastline. It's a 14-kilometer round-trip adventure.

Stay: Enjoy your stay at BIG4 Wallaga Lake Holiday Park.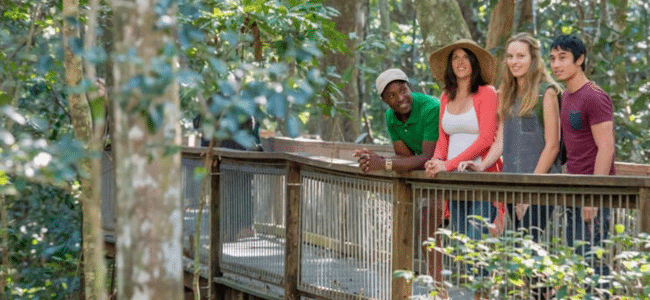 Lakes Entrance VIC: Lakes Entrance Foreshore For a leisurely lakeside walk, head to Lakes Entrance in Victoria. The Lakes Entrance Foreshore trail is a scenic 5-kilometer loop that takes you along the Gippsland Lakes, offering tranquil waterscapes and abundant birdlife.

Stay: Enjoy your stay at BIG4 Waters Edge Holiday Park or Lakes Entrance Tourist Park.

Portarlington VIC: Bellarine Rail Trail Explore the Bellarine Peninsula's charming landscapes on the Bellarine Rail Trail. Whether you're just looking to do a section of the trail or are fit enough to do the whole thing, this 32-kilometer trail is ideal. You can experience picturesque bay views, local wineries, and charming towns along the way.

Stay: Discover Portarlington from Dylene Holiday Park.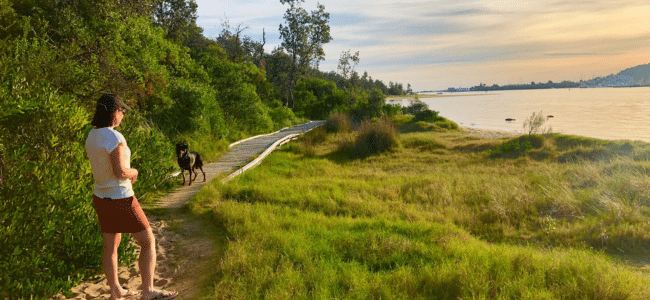 Swan Valley WA: Bells Rapids Trail Swap the beach for the vineyards in Swan Valley, Western Australia. The Bells Rapids Trail is a picturesque 4-kilometer walk, perfect for families and wine enthusiasts alike. Enjoy the serenity of the Swan River and the charm of local wineries.

Stay: Discover the beauty of Swan Valley from BIG4 Perth Midland Tourist Park.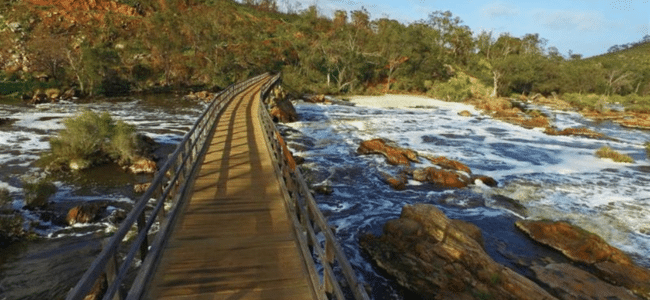 No matter which Hampshire Holiday Park you choose as your starting point, you'll find yourself in close proximity to some of Australia's most captivating natural wonders. From Queensland's tropical beaches to Western Australia's wine country, and the diverse landscapes of New South Wales and Victoria, there's a hiking adventure waiting for you in every corner of this beautiful country.

So lace up your hiking boots, grab your backpack, and prepare to be amazed by the natural beauty of Australia's hiking trails. Book your next Hampshire Holiday Parks Adventure today and make your next holiday an unforgettable outdoor experience!