Experience breath-taking beauty in the form of pristine beaches, dramatic coastal cliffs and lush green hinterlands – all brought to life by vibrant towns on The Mid-North Coast of New South Wales. From Coffs Harbour down to Port Macquarie – this idyllic stretch is truly a paradise for those seeking restful escapes or active adventures! It's not just about sun, sand and surf though, there's plenty of things to see and do here all year round.
The Big Banana
What's a holiday to the NSW Mid-North Coast without visiting the Big Banana? Don't miss a chance to get up close and personal with this famous landmark! The fun-filled family attraction is, some would argue, THE most iconic 'Big Thing' in Australia. See what all the fuss is about – with over 25 rides and activities – from the Water Park to Laser Tag – there's something for everyone. Enjoy local produce at the Big Banana Café or grab a memento or souvenir at Big Banana Giftshop. You can also book a Big Banana Big Tour, let the kids burn off some steam in the Big Banana Playground or cool off on the ice-skating rink. It's a full day of fun you won't soon forget. Visiting in May? Plan your trip to coincide with the first-ever Banana Fest 2023. It will be the first of what is hoped to be a reoccurring festival of food, music, and fun celebrating the best of what the region has to offer.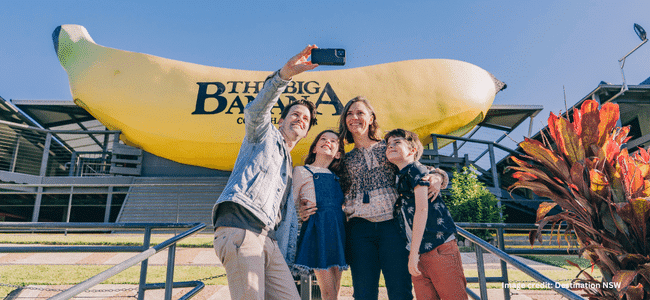 Dorrigo National Park
For an unparalleled dose of captivating wildlife and spectacular scenery, visitors must take a trip to Dorrigo National Park. This Gondwana Rainforests of Australia World Heritage Area boasts lush rainforest and magnificent lookouts with stunning views. Get lost in the captivating beauty of ancient Gondwana forest at Dangar Falls and follow crystal creeks through the lomatia ferns – this is nature at its best! Be sure to explore the Dorrigo Rainforest Centre to learn more about this unique Gondwana region and have a bite to eat at the Canopy Cafe where you'll find tasty eats amongst beautiful surroundings. Dorrigo National Park is not one to be missed by holidaymakers exploring this part of NSW!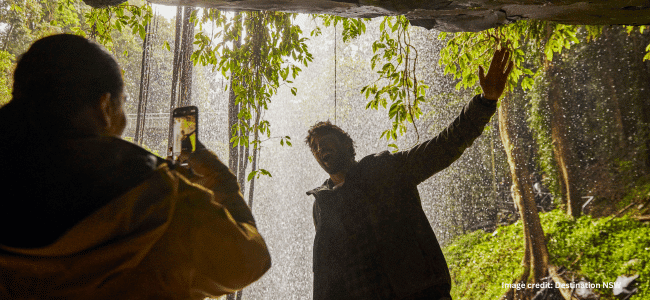 Bellingen & Bellingen Markets
The small town of Bellingen is an ideal destination for a relaxing holiday, with its quaint shops and cafes giving the perfect opportunity to explore new things. It's no wonder the local markets in town are so popular; there is something for everyone. Whether you're looking for some new local music or handmade jewellery, market stalls line the streets with diverse products and plenty of entertainment. Of course, don't forget the food! The smell of freshly cooked treats will make your mouth water every Tuesday and Saturday morning before 10 am when the markets take place. Make sure to add it to your itinerary while you're here!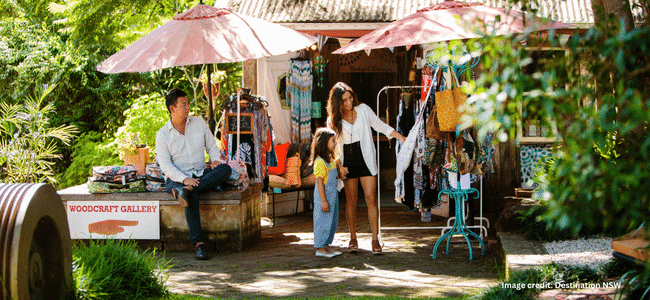 Shelly Beach
Shelly Beach, just 15 minutes from Nambucca Heads and only 2 hours north of Coffs Harbour, is a paradise for beachgoers of all ages. This picturesque stretch of coastline is protected from swells and surf by an offshore reef, making it an ideal spot to lay down a towel and soak up some rays. Not only does its crystal-clear waters provide for safe swimming – there are also plenty of amenities on offer. Whether it is picnic areas with barbecues, access to the Nambucca Shire's coastal walks or its impressive array of wildlife (from dolphins to sea birds) that take centre stage – Shelly Beach really has something for everyone!
Koala Hospital Port Macquarie
Take a trip to the Koala Hospital in Port Macquarie and get up close and personal with our furry friends. The hospital is devoted to caring for injured and sick koalas, as well as treating hundreds of orphaned joeys each year. This unique attraction offers visitors an exclusive insight into the world of wild Australian animals, showing the care and dedication of its staff in protecting koalas and educating visitors about the challenges they face. You can even adopt one of these little guys to show your support for their cause.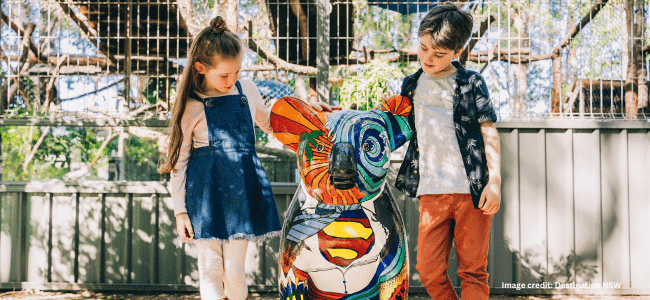 Whale Watching
OK so this isn't year-round – but definitely worth the opportunity if you get it. The NSW Mid-North Coast is well known for its whale watching every year between May and November when the humpback whales migrate along the coast from Antarctica to warmer waters up north. During this time, you can join a boat tour out of Coffs Harbour or take a scenic drive along the coast, with plenty of great spots for whale watching from Shelly Beach or Sawtell Beach. There are also whale watching cruises that depart from Port Macquarie and Nambucca Heads, offering an up close and personal experience for whale enthusiasts. Whether it's a once in a lifetime trip or part of your regular holiday itinerary, don't miss out on the amazing opportunity to witness these. If you're lucky, you may even spot them breaching or playing in the waves! For a truly magical experience, join one of the many local operators and take this once-in-a-lifetime opportunity to witness these majestic animals up close.
So, if you're looking to spend some time on the beautiful New South Wales Mid-North Coast, be sure to add these places to your list! There are a number of Hampshire Holiday parks located from Valla Beach Holiday Park in Nambucca Heads to Leisure Tourist Park in Port Macquarie – perfectly located for you to explore all that the Mid-North Coast has on offer.
Looking to plan your next holiday on the NSW Mid-North Coast?
Check out our fabulous holiday parks Australia-wide for a range of fabulous locations from coast to country.