Camping and caravanning are great ways to get outdoors and explore our great country, but like anything, if you're not organised – things have the potential to be less enjoyable than you may have planned! Like anything new, there can be a bit of a learning curve for first-time campers when it comes to things that can make or break your camping experience. In this article, we cover some of the most common mistakes made by camping newbies and how to avoid them. After all, we want to ensure your first camping trip is remembered for all the right reasons!
1) Not Packing Appropriately
Many first-time campers forget that camping trips usually require more than just your basic clothing. Make sure to bring extra layers of clothes, rain gear, hats, sunscreen, and sunglasses in case you need them. It's also important to pack enough food for your entire trip (including snacks), as well as necessary cookware and utensils. Don't forget about insect repellent either!
Before you head off on your camping trip, it's a good idea to lay out all of your gear and double-check that you have everything you need. Make sure all the items are organized in a way that allows for easy access when needed.
2) Not Checking the Weather
Let's face it, when you're at the mercy of the elements it's best to be prepared. Before heading out on your trip, make sure to check the local weather forecast so that you're prepared, with the right equipment, if there's rain or other inclement weather. This will also give you an idea of what type of clothing and gear you may need during your trip.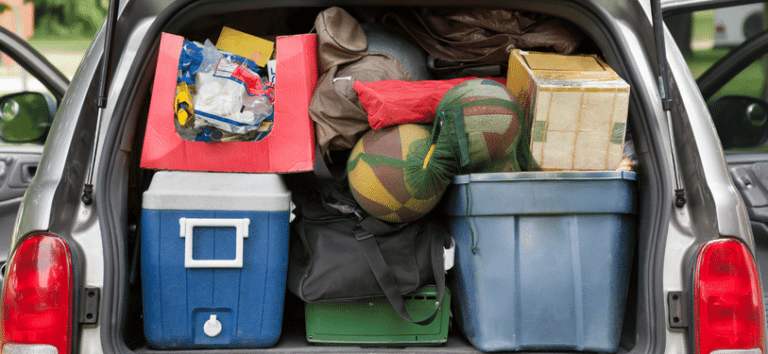 3) Not Setting Up Properly
Setting up a tent or caravan can be tricky if you don't know what you're doing. Make sure to read all instructions carefully before setting up your equipment and ideally practice setting it up at home before heading out on your trip. Additionally, make sure every part of the setup is secure before heading out for the day or night!
4) Not Planning Ahead
Camping trips are all about getting away, being one with nature and unwinding, but you still need to have a plan. Before heading out on your trip, make sure to map out any activities or attractions you want to visit, as well as the route you will take to get to your destination. Additionally, research any camping restrictions or fees in the area you will be visiting so that you can plan accordingly.
5) Not Having an Emergency Kit
You never know what could happen while camping, so it's important to have a few emergency items on hand. A first-aid kit is a must-have, as well as flashlights and extra batteries.
4) Not Being Organised
Keeping all of your items organised is essential for any successful camping trip! Store all perishables in coolers with ice packs, keep food well secured and away from scavenging animals, and store items near the tent entrance for easy access. Additionally, establishing a system for rubbish management will help keep things tidy and avoid any unwanted pests from visiting your campsite during the night or day.
5) Not Respecting Nature
While camping out under the stars can be an amazing experience, it's important to remember that these areas are home to many animals that have been here much longer than us humans have been around! Respect their home by not disturbing their habitats, and leaving the area as you found it by not leaving behind rubbish or debris.
6) Not Knowing Where To Go
When planning a camping or caravanning adventure it's important to research where would be best suited for a beginner camper like yourself! Make sure you know where you're going and what activities are available in that area. Additionally, if you're taking your caravan and want to stay at a campsite, make sure it has the necessary facilities such as free wifi, powered sites and waste disposal areas.
These general tips should help first-time campers find their footing when embarking on their camping journey! Remember to plan ahead. A great starting point for beginners are holiday parks, which offer facilities such as bathrooms with hot showers, barbecue areas and camp kitchens, toilet blocks, and laundry facilities, allowing newbies to get a taste of camping whilst still having a few creature comforts!
In short, camping and caravanning can be an incredibly fun experience but it comes with its own set of challenges too! By avoiding these common mistakes made by first-time campers you'll be able to enjoy your outdoor adventures with minimal stress. So why not give it a try next time? We promise you won't regret it!
Looking to book your next camping holiday?
Check out our fabulous holiday parks Australia-wide for a range of fabulous locations from coast to country.