Lucinda is one of Far North Queensland's hidden gems, a sleepy coastal town famously known for its impressive six-kilometre-long jetty. This picturesque location offers visitors an array of activities to do and natural wonders to see. A holiday here is sure to leave you with memories and stories of your adventures to tell for years to come. If you're looking for a holiday where you can escape the hustle and get back to nature, a visit to this part of the country should be high on the list of destinations to visit.

Here is a list of our top recommendations:
1. Hinchinbrook Island National Park
Sitting just eight kilometres off the Queensland Coast, Hinchinbrook Island is a must-see destination for any nature lover. Known as Munamudanamy by the Bandjin and Girramay tribes and traditional owners, the rugged beauty of this island must be seen to be believed. The island boasts an amazing walking trail, called the Thorseborne Trail, that will take you through some of the most stunning landscapes in the area. Visitors can enjoy hiking through lush rainforests and taking in breath-taking views of the surrounding ocean.

Please note that only a limited number of visitors are allowed on Hinchinbrook Island at any one time so make sure to book your visit in advance. Check in with popular tour operators such as Absolute North Charters for more information.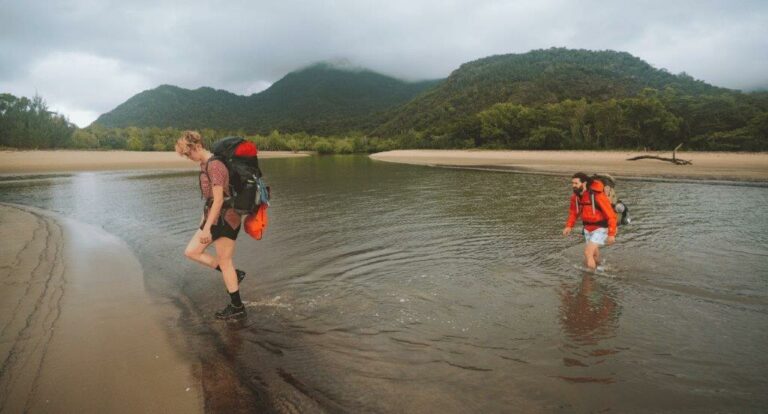 2. Thorseborne Trail, Hinchinbrook Island

As mentioned above, The Thorseborne Trail, is a Hinchinbrook Island must do. This multi-day hike will take you through some of the island's most remote and beautiful terrain, including stunning waterfalls, swimming holes, and pristine beaches. It is something that everyone should enjoy at least once and is truly one of those adventure holiday 'bucket list' items to add to your list. The trail provides an ideal way to explore the rugged natural beauty of Hinchinbrook Island and its diverse wildlife.

Be sure to pack plenty of water and snacks before embarking on the Thorseborne Trail as there are no shops along the route! Make sure to bring along a good pair of hiking boots, and comfortable clothing as the trail can be quite challenging in places.

For more information including a detailed map of the trail visit the Queensland Government's Parks and Forests website.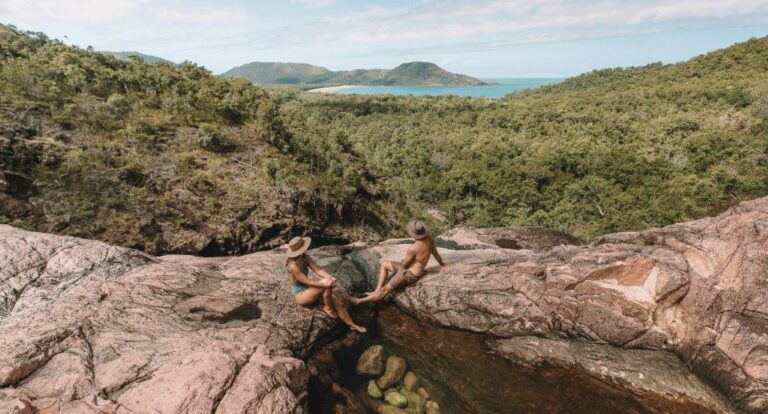 3. South Zoe Bay and Zoe Falls
If you're just visiting Hinchinbrook Island for the day, South Zoe Bay and the Zoe Falls are definitely worth a visit. Enjoy a picnic on the beautiful pristine beach, before following South Zoe Creek up to the spectacular Zoe Falls. The falls cascade down into a crystal-clear pool surrounded by lush rainforest vegetation – it is truly a sight to behold! Visitors can take a dip in the clear, natural plunge pool at the top of the falls, where you can enjoy some of the best views on the island.

Zoe Bay and Falls are part of the Thorsborne Trail, however you are also able to reach the bay by boat (either by private vessel or a boat transfer) from Lucinda or Cardwell. There are plenty of local charter operators including North Queensland Island Charters, or Wild Hinchinbrook Adventures whom you can book for the day. If you're really looking for adventure, the bay is also accessible by sea kayak.
4. Ocean Kayaking
Get your paddling arms ready, there are a range of ocean kayaking tours that leave from Lucinda and provide the opportunity for those looking to explore the stunning coastline from a different perspective. Our recommendation is to book a tour with experienced guides who will take you through some of the most jaw-droppingly beautiful scenery on offer in this part of Australia. Depending on the tour you choose, paddlers may get a chance to spot marine wildlife such as dolphins and turtles, plus opportunities for snorkelling in secluded bays.

Whether you're a beginner or experienced paddler, ocean kayaking is one of the best ways to explore Hinchinbrook Island.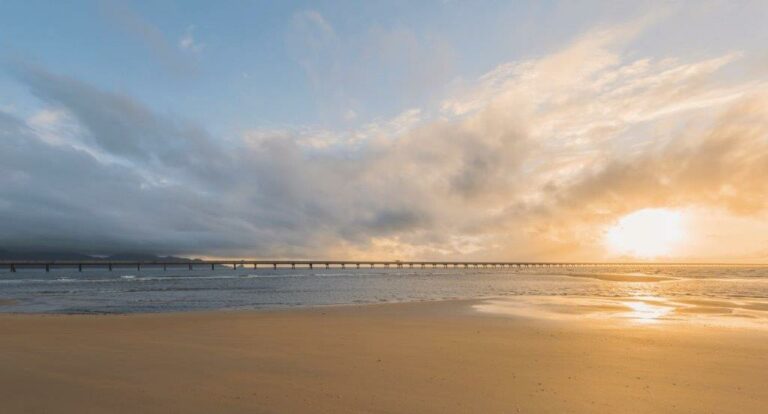 5. Lucinda Jetty
The Lucinda Jetty is one of the longest jetties in Australia and a must-visit spot when in Far North Queensland. This iconic structure stretches out into the ocean (six kilometres to be exact) and offers visitors incredible views of the surrounding landscape. Built in 1979, the jetty is the world's largest bulk sugar loading facility. Be sure to pack your camera since this is definitely one for the photo album!

The Lucinda Jetty is also a great spot for fishing, with plenty of barramundi and other species to be caught. There is a fish cleaning station located at the end of the jetty so make sure you bring along some bait and tackle! Alternatively, if you just want to enjoy the scenery, take a leisurely stroll along the jetty and soak up the tropical atmosphere.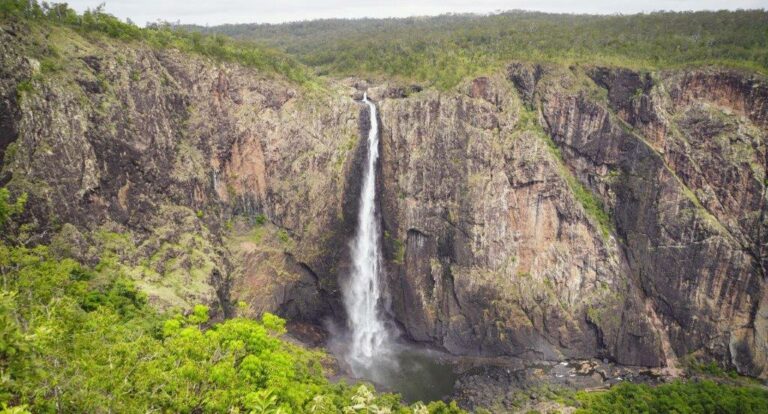 6. Wallaman Falls
Located just an hour's drive away from Lucinda is Wallaman Falls – the tallest single-drop waterfall in Australia! Visitors can marvel at this natural wonder from various lookout points or choose to hike down to the base for an up-close experience. Keep your eyes peeled for local wildlife including platypus and freshwater crayfish!

Whether you choose to explore the area by foot or take one of the many organised tours, Wallaman Falls is a great addition to any Hinchinbrook holiday. Don't forget your sunhat, sunscreen and water bottle as it can get quite hot in the tropical sun.
7. Fishing Paradise
Unsurprisingly, fishing is one of the most popular activities on the Far North Coast of Queensland, and Lucinda is no exception. Lucinda is a paradise for avid anglers and fishermen alike. With access to both freshwater and saltwater fishing opportunities there's something for everyone here.

With its abundance of rivers, estuaries, and creeks there are plenty of spots for anglers to cast their lines in search of some big catches! Whether you're after barramundi or bream, they are all here. Speak to the locals for some inside knowledge. If you're looking for a fishing experience that you'll remember for the rest of your life, hire a local guided fishing charter – they're in the know when it comes to all the best fishing spots! Check out CrackaJack Sportfishing who offer a range of half and full day packages to choose from.

If fishing isn't your thing, it is one hundred per cent still worth taking a guided cruise up and down this beautiful stretch of coastline. You'll be amazed by the stunning scenery and maybe even spot a few wild dolphins!

Bonus: Great Barrier Reef Tours

For those who want to explore further out into the ocean, Lucinda is only thirty-eight kilometres away from the Great Barrier Reef. There are plenty of day tours available for visitors who want to experience this world-renowned natural wonder up close.
8. Book a Guided Mungulla Aboriginal Tour

Learn about the land and history of the Nywaigi Aboriginal culture, who occupied the lands north of Townsville and Tropical North Queensland for over 45,000 years, on an educational Mungulla Aboriginal Tour. Led by a knowledgeable guide, take a journey into the past and discover sacred sites, hand-painted rock art galleries, hunting grounds and even secret fishing spots.

The tours, which are run during the dry season, are suitable for all ages and fitness levels and will leave you with a better appreciation of the significance of the local culture and environment. With over 10,000 years of history behind them, there are so many stories to be told – it's an experience not to be missed!

For more information or to book a guided tour, visit Mungalla Aboriginal Tours.

If you're looking for an unforgettable travel experience filled with adventure and natural beauty then look no further than Lucinda on the Far North Coast of Queensland. Make sure to check out the many attractions and activities on offer, from hiking trails and glorious natural wonders to fishing charters and day trips to go exploring the wonders of the Great Barrier Reef and more.