Ah, the great Australian road trip – kilometres of open road, magnificent views, and the constant chorus of "are we there yet?" from the backseat…sound familiar?
As the Easter Holidays approach, many families will be loading up their cars and heading off for a much-needed break. But along with plans for fun activities and adventures to be had, comes the reality of long car rides with energetic (or bored!) children in tow. If you're dreading your family road trip over the holidays – fear not!
Whether it's activities on the go, how to handle those inevitable "are we there yet?" moments, or smart packing tricks; here is everything you need to know about making your family road trip this Easter as smooth sailing as possible!
Get Organised
Ever feel like a master juggler when it comes to organising the car for a family road trip? You must strategically place the suitcases, stow the snacks, and manage to not bury the kids under a mountain of toys and pillows. The real challenge begins when you want to create enough space so they can comfortably stretch their little limbs, while keeping everything accessible. The secret? Think of your car as a game of Tetris! Use under-seat storage, seat back organizers, and your wits to create a perfectly organized masterpiece, where everything has its place, and the kids aren't living in a claustrophobic hellscape.
With a little ingenuity, you'll turn that car chaos into a harmonious haven (ok maybe not exactly), ensuring no one gets lost under a pile of beach towels and sleeping bags. Trailers or car roof racks are a good option to consider if the boot is not big enough and the kids are no longer small enough to stuff eskies and pillows under their feet in the backseat.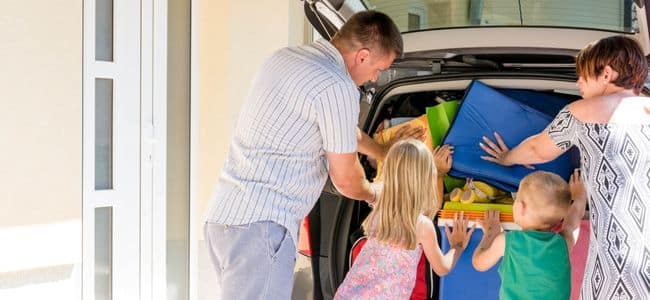 Games to Keep Everyone Amused
Road trip games such as I Spy or 20 Questions are great; but how about these suggestions to broaden your road trip entertainment repertoire? Enter into the realm of more quirky and playful contests such as "Battle of the Bands," where each passenger takes turns belting out tunes. Or have a running game of "Road Sign Scavenger Hunt," where the little tykes compete to be the first to spot a koala crossing or an echidna-only parking sign. Just imagine the thrill on their faces when Dad finally scores a point with his perfectly timed possum impression in "Wildlife Charades."
Yes, we know…keeping the kids entertained on a long car ride can be draining, so it's important to have a cache of fun activities to fall back on. Books, colouring materials, and travel-size games all make great distractions on the road. If all else fails, and if you have access to technology, download a few episodes of the kids' favourite TV shows or movies, and games – just make sure to bring enough power cords/chargers or battery packs!
Plan Your Stops Ahead Of Time
Often the strategy is just to get the travel over in one fell swoop, but as a wise person once said, it's not always about the destination, but the journey that matters…
So where possible, plan your stops along the way in advance – as this will ensure that you get the most out of each break and are never stuck searching for somewhere to eat at the last minute (when everyone is hangry!). Not to mention, breaking up the journey a little, will give you a slight break from the never-ending 'are we there yets'.
Additionally, look for interesting attractions nearby each stop as these can be great for a change of scenery and an excuse to stop, stretch the legs, and get some fresh air. These planned adventures will give everyone something exciting to look forward to and help break the travel up into bite-sized chunks. You may even tire the kids out a bit, so they sleep some of the way!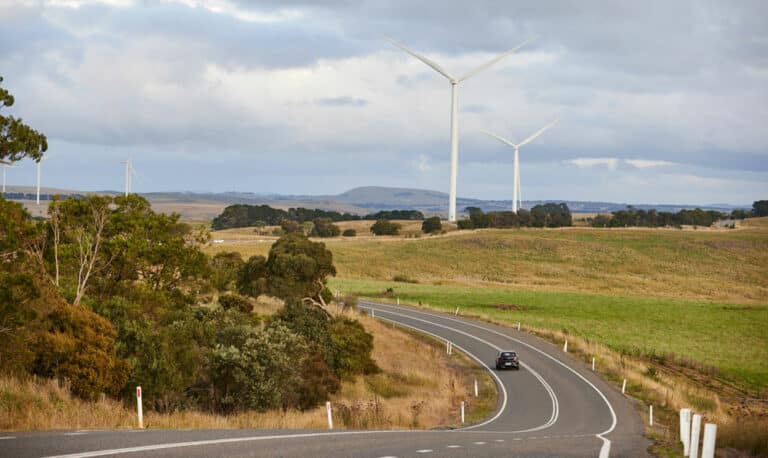 Road Trip Etiquette
Having a few ground rules in place can make all the difference during your family road trip. Set expectations from the outset by letting everyone know that no fighting is allowed in the car; while agreeing on times when it's ok to stop (for food, bathroom breaks, etc.) Also, ensure that everyone takes responsibility for their items, so you don't have to spend extra time searching for things at each stop!
The most important thing is to make the journey fun for everyone! Road trips can be a great opportunity to bond as a family, so try to make sure everyone's involved in creating memories that will last long after your car ride has ended. With a bit of preparation and the right attitude, you'll be able to make it through your journey with your sanity intact – so what are you waiting for? Start packing and get ready to hit the road this Easter!
Happy road tripping!
Looking to plan your next family road trip?
Check out our fabulous holiday parks Australia-wide for a range of fabulous locations from coast to country.