Unlock the majestic beauty of Australia's Top End for your next dream holiday! From unique wildlife to stunning landscapes, vibrant culture, and World Heritage-listed sites; this region offers something special around every corner. With so many amazing places to explore, it can be hard to know where to start – from the thriving capital city of Darwin to marvelling at the wonders of Kakadu National Park, uncovering Arnhem Land in the north-east, or discovering where the tropics meet the outback in the Katherine region. Read on as we dive into some of what a Holiday in the Top End has to offer!
Top five for the Top End
Kakadu National Park
For an experience you'll never forget, make sure to visit Kakadu National Park! Home of Australia's Indigenous culture for over 65 thousand years and spanning half the size of Switzerland (at almost 20,000 square kilometres), a walking tour with one of the park rangers is like stepping back in time. Discover ancient rock art, majestic waterfalls and wetlands, as well as the vibrant and diverse array of weird and wonderful Australian wildlife including wallabies, wombats, up to 280 species of birds, saltwater crocodiles and many more.
Fishing And Boating
For the true fishing enthusiast, a trip to Australia's Top End could be just what you need! Here, fishing is as easy as grabbing a boat and casting your line. And whilst you don't need a recreational boating or fishing license to partake in these activities – just make sure you're familiar with and follow the recreational boat laws.  If Barramundi is on the menu, this will certainly be an unforgettable experience as these feisty fish love biting here! Just make sure you adhere to size restrictions when reeling those catches in… oh yeah and keep an eye out for any curious crocodiles who might like to show up at your favourite spot…
Darwin Waterfront Precinct
Of course, no Top End getaway would be complete without visiting the charming capital city of Darwin!  Soak up the sun and cool off with a dip in either the beach lagoon or Wave Pool at the Waterfront Precinct. Whether you're looking for a relaxing stroll or some exciting activities, here you can find both in abundance. The city also boasts one of the largest outdoor eateries in Australia with the most stunning harbour views. Here, you can top off your day with some delicious eats from one of the many food vendors and restaurants, or hang around for a bit of live music and entertainment. From here it's an easy stroll across the Sky Bridge walkway, which leads you into the heart of the city where you can indulge in a bit of retail therapy.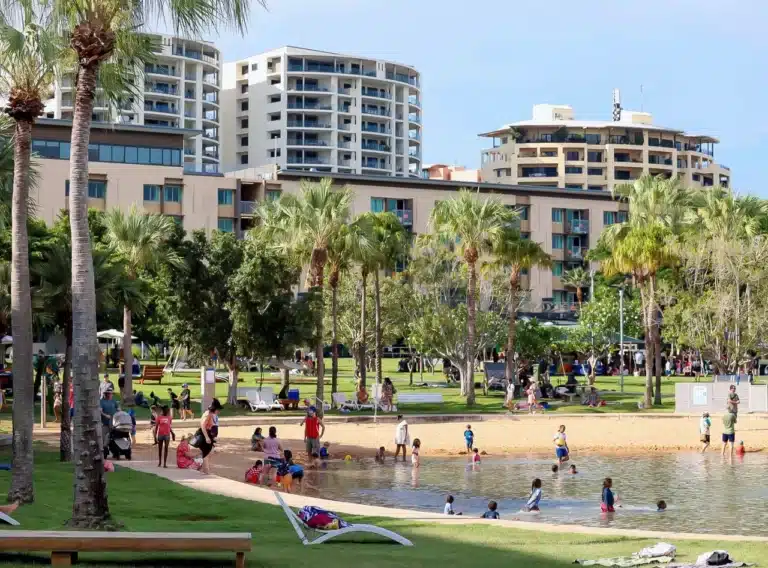 Crocosaurus Cove
Do you have what it takes to come eye-to-eye with one of Australia's most ferocious predators? At Crocosaurus Cove, brave adventurers can do just that! Not only can you encounter real saltwater crocodiles up close and personal, those who are not feint at heart, are invited to try the Cage of Death experience. It's Australia's only up-close crocodile experience where you can swim with the crocs. The Cove also offers fun interactive and educational sessions for kids to learn more about crocodiles and the other unique animals which inhabit the region.
Darwin Botanical Gardens
Named after George Brown, Lord Mayor of Darwin from 1992 until his death in 2002, these gardens are a tropical oasis located only 2km from the city centre. Darwin's climate is tropical which means the Botanical offers an incredible array of flowers and plants that are native to the region that spans 42 hectares and is part of the Mindil Beach and MAGNT precinct. For the gardener and flower lover, this garden is one place you don't want to miss.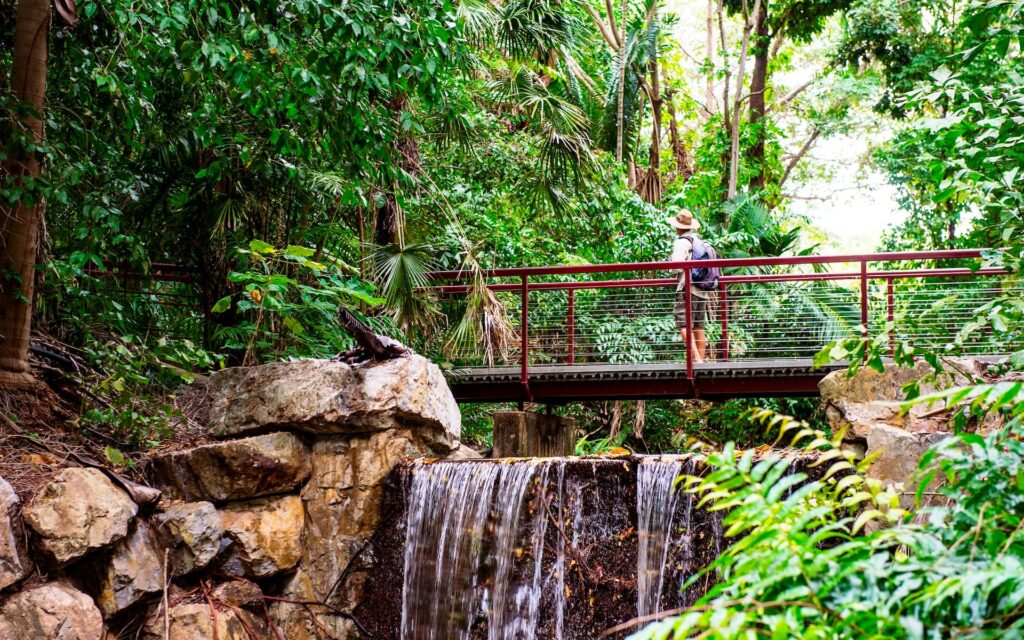 Where To Stay
If you're not a fan of humidity and heat, the best time of the year to visit the Northern Territory is during the cooler, drier months of the year between April/May and October. However, low season is a great time to go if you're travelling on a budget when there is often some great deals to be had.
The Northern Territory is BIG. When planning your trip, make sure you have a good base from which to see it all. You may find that there is just too much to see and do in one trip.  BIG4 Howard Springs Holiday Park is perfectly positioned a short drive into the thriving Darwin CBD and provides easy access to some of the Territory's biggest tourist drawcards including Kakadu, Berry Springs and Litchfield National Park.
Recently voted as one of the NT's top holiday parks in 2022 by readers of the Holiday's with Kids Magazine, the Howard Springs is set amongst stunning tropical gardens, with a range of cabin accommodation and lovely shaded, grassy caravan and camping sites. Equipped with three resort pools and spas, a kid's playground with jumping pillow, and a water splash park, BIG4 is the ideal place to come home to after a day of adventure and exploring the Top End.
Inspired? Plan you Top End holiday and book your stay today!