Ready to elevate your camping and caravaning experiences? Transform your mobile haven into a comfortable retreat on wheels with practical DIY upgrades. Whether you're a weekend explorer or a full-time nomad, these modifications aim to improve your caravan journey, adding style and comfort to your outdoor experience. Follow along as we explore ways to make your caravan a comfy, reliable companion for all your road-tripping adventures.

Convertible Dining Area to Bed Transformation: Making the Most of Space
In a caravan space is at a premium.  Transforming your dining area into a convertible bed, is a space-saving game-changer. Explore space-saving furniture alternatives or craft a personalised fold-out bed system. Find inspiration from compact apartment and tiny home designs, using sofa beds, wall beds, or cleverly designed tables that easily convert to meet your specific needs.

Solar Power Installation: Embracing Sustainable Energy on the Road
Step into the world of Eco-friendly energy for your caravaning road-trips by adding a solar power system. Empower yourself to harness the sun's energy for charging devices, powering appliances, and brightening your evenings. If you enjoy a bit of DIY, platforms like YouTube and resources from solar panel manufacturers offer step-by-step guidance on installing solar panels on your caravan.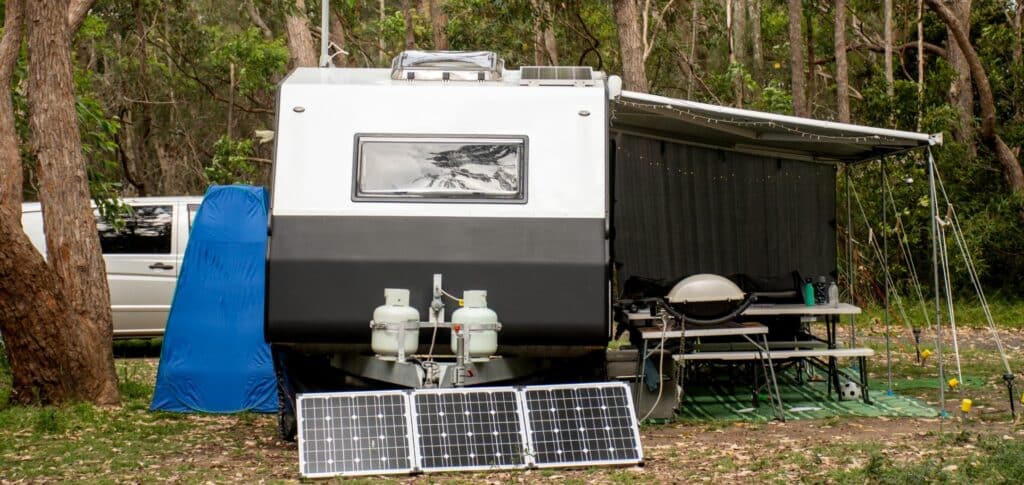 Smart Storage Solutions: Organising Your Space Effectively
Caravaning often requires a minimalist approach but that doesn't have to mean sacrificing all the creature comforts of home whilst you're on the road. Implement clever storage solutions like hanging shelves, foldable baskets and under-bed storage compartments. Find creative storage ideas for small spaces on platforms like Pinterest and Google, the resources online are endless!

Off-the-Grid Connectivity: Boosting Your WiFi Signal
In remote areas, having a reliable mobile signal is crucial, and portable WiFi systems or signal boosters can make a difference. Many holiday parks now provide free WiFi for guests, adding an extra layer of convenience. Staying connected can enhance your camping experience, allowing you to share adventures or catch up on work.

Custom Lighting: Creating Ambiance Inside and Outside
Lighting transforms the atmosphere inside your caravan and around your campsite. Experiment with LED strips, fairy lights, or custom fixtures to create a cosy ambiance. Consider strategically placed LED strips, draped fairy lights, and custom fixtures inside the caravan to match your style. Solar-powered lanterns or string lights can guide your path and create an intimate setting for outdoor gatherings.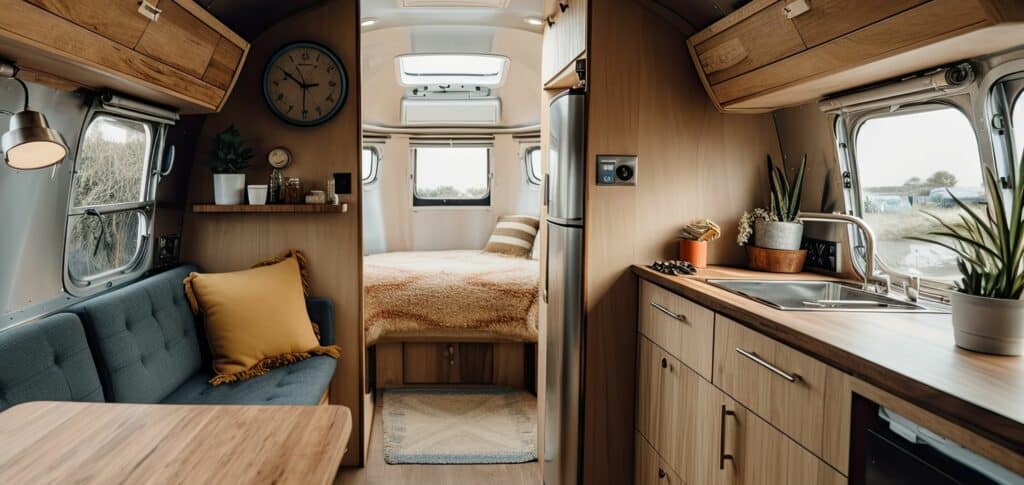 Transforming your caravan into a personalised, comfortable space doesn't have to break the bank. These practical and creative DIY upgrades add a touch of your personality to your mobile home. Whether you're a weekend camper or a full-time adventurer, these modifications make your caravan a true home on wheels.

Ready to embark on your next caravan or camping adventure? Let's hit the road! Start planning your next road-tip today.