Looking for ways to make the most of your winter holiday? Nothing beats a campsite with a warm campfire or fire pit surrounded by family and friends, roasting marshmallows, and enjoying each other's company. Whether you're huddled under blankets or basking in the glow and warmth of the flames, there's a certain charm to this timeless activity. Need a few suggestions to get the good times flowing around the campfire these Winter Holidays? Below are some of our top suggestions.
1. Make s'mores
This is a classic campfire treat that can be enjoyed by people of all ages. All you need is some chocolate, marshmallows, and arrowroot biscuits. Simply roast the marshmallows over the fire until they're nice and gooey, then sandwich them between two biscuits with a piece of chocolate. Yum!
2. Tell ghost stories
One of the best things about being around a campfire is that it's the perfect setting for telling ghost stories. If you're feeling brave, try telling a scary story yourself. Just be sure to keep it age-appropriate if there are young children present.
3. Roast hot dogs or marshmallows
If making s'mores isn't your thing, you can always roast hot dogs or marshmallows over the fire. Just be sure to keep an eye on them so they don't catch on fire!
4. Make tin foil dinners
Tin foil dinners are a fun and easy way to make a tasty meal over the campfire. Simply choose your favorite ingredients (we recommend potatoes, carrots, onions, and ground beef), wrap them up in tin foil, and place them on the fire. Cook for about 30 minutes, then enjoy!
5. Play camping games
Camping games are a great way to pass the time around the campfire. Some popular games include charades, I Spy, and 20 Questions. If you're feeling competitive, you can even have a contest to see who can build the best campfire!
6. Sing songs
Singing songs around the campfire is a great way to get everyone in the camping spirit. Whether you opt for classic campfire songs or contemporary hits, everyone is sure to have a good time.
7. Relax and enjoy the company
Sometimes the best thing to do around a campfire is simply sit back, relax, and enjoy the company of those around you. Take in the sights and sounds of nature and just enjoy being in the moment.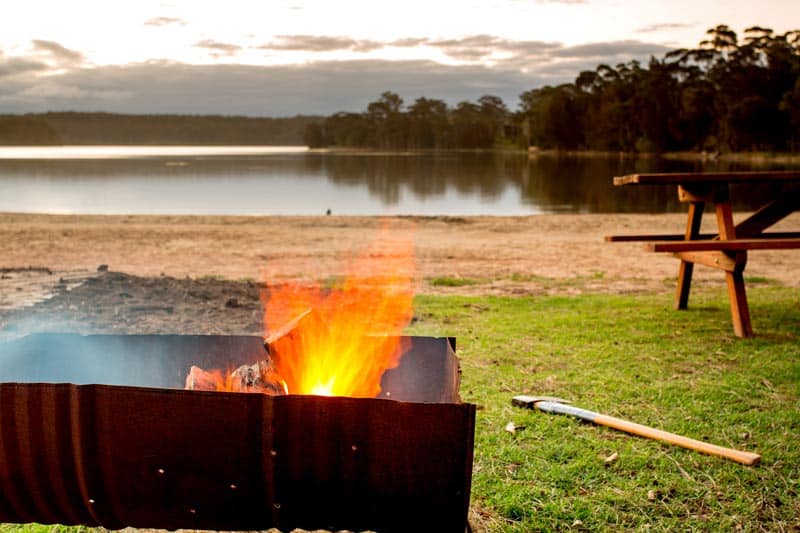 Why not consider a winter getaway for your next break? It's a great opportunity to enjoy some cosy time with loved ones. There are several Hampshire Holiday Parks that allow campfires and have fire pits during the winter months, making them the perfect destinations for a memorable experience.
BIG4 Opal Holiday Park

BIG4 Opal Holiday Park is located in Lightning Ridge Outback New South Wales. A landscape of extremes, it experiences scorching Summers but gets chilly during the Winter months enough to enjoy a nice campfire. The purpose-built fire pit is lit nightly in the cooler months and is opposite the Pavilion.
Batemans Bay Marina Resort

Batemans Bay Marina Resort is situated on the banks of the Clyde River, offering breathtaking waterfront views. The resort features dedicated fire pit areas, complete with comfortable seating and a shelter, making it the perfect spot to enjoy on a crisp, Winters night. You can hire a fire pit and purchase bags of wood at reception.
BIG4 Nelligen Holiday Park

During the winter months at BIG4 Nelligen Holiday Park, campfires are allowed at campsites so, you can enjoy the warmth and ambiance of a campfire right at your campsite. Guests can buy wood for their campfires from reception.
BIG4 Wallaga Lake Holiday Park

Except for total fire ban days, BIG4 Wallaga Lake Holiday Park allows contained fires within the park either in the fire pits on some accommodation, in your own fire bin or brasier. Guests are also able to borrow a fire drum at no extra charge.
BIG4 Big River Holiday Park, located in the serene Clarence Valley minutes from Grafton, provides a peaceful escape for your winter getaway. Guests can bring their own fire pits to spend quality time with loved ones, roasting marshmallows, and admiring the sparkling stars in the night sky.
Please note: The use of campfires and/or fire pits are at the manager's discretion and are subject to weather conditions, fire restrictions, and other safety requirements. At many parks, fires are only permitted on certain site types or in communal areas. Please contact the park prior to booking and arrival to discuss any restrictions.