Hey there, beach lovers! It's the time of that time of the year when the sun's shining and the waves are calling us to the stunning Australian coast. If you're planning an iconic Aussie beach summer holiday this year, you're in for a treat! Let's hit the road and discover some of the best Australian beaches you absolutely need to visit.

1. Durras North Beach, New South Wales:
Picture this – a pristine beach surrounded by nature's beauty. That's Durras North Beach! This little gem near the charming town of Durras North, on the New South Wales South Coast offers a serene escape. You can chill on the golden sands, take a dip in the clear waters, or explore the nearby Murramarang National Park for some incredible hiking trails.

Stay: Joalah Holiday Park, Batemans Bay Marina Resort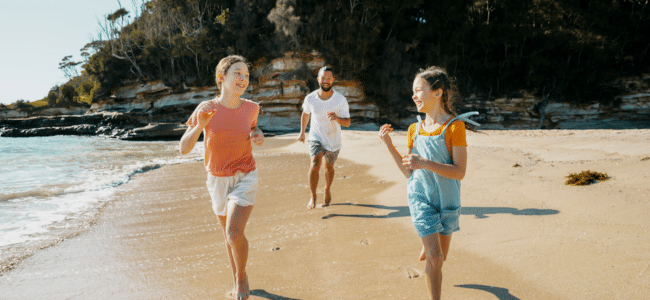 2. Valla Beach, New South Wales: Looking for a hidden paradise? Valla Beach is your answer! Tucked away on the New South Wales Mid North Coast, this beach is all about relaxation and good vibes. Surfers can catch some sweet waves, families can enjoy a calm tidal lagoon, and everyone can soak in the coastal charm.

Stay: Valla Beach Holiday Park


3.Blacks Beach, Barrack Point, New South Wales: Blacks Beach, near Barrack Point, is a magnet for beach enthusiasts and surf lovers. The long sandy stretch is perfect for sunbathing, beach games, and leisurely walks. And when the tide's low, check out those cool rock formations and tide pools – perfect for a mini-adventure!

Stay: Surfrider Caravan Park


4. Black Head Beach, Hallidays Point, New South Wales: Ah, the laid-back vibes of Black Head Beach! This beauty near Hallidays Point boasts a lush headland backdrop, making it a paradise for nature lovers and photographers. Swim in the crystal-clear waters, enjoy a fishing session, or simply lounge under the swaying palm trees.

Stay: BIG4 Happy Hallidays Holiday Park, Lakeside Forster Holiday Park


5. Camel Rock Beach, New South Wales: Prepare to be amazed by the enchanting Camel Rock Beach on the Sapphire Coast. The beach is named after a rock formation that looks like a majestic camel – talk about a cool photo op! Don't miss the chance to explore the fascinating rock pools and spot marine critters.

Stay: BIG4 Wallaga Lake Holiday Park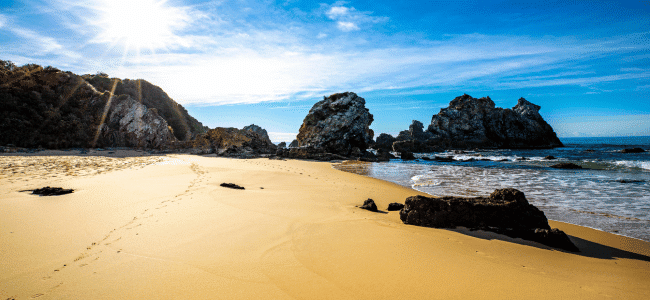 6. Ocean Grove and Barwon Heads, Victoria: Heading into Victoria, we have the fantastic duo of Ocean Grove and Barwon Heads on the stunning Belarine Peninsula. Ocean Grove's Main Beach is a surfer's delight, while the calm waters of the Barwon River are perfect for stand-up paddleboarding. And let's not forget the mesmerising rock pools at Barwon Heads Bluff – a playground for beachcombers!

Stay: Dylene Holiday Park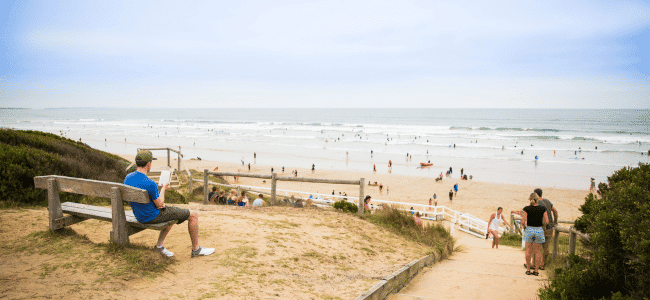 7. 90 Mile Beach, Lakes Entrance Victoria: Last but not least, the stunning 90 Mile Beach in Lakes Entrance, Victoria is the cherry on top of our beach adventure. This family-friendly spot has it all – golden sand, shallow waters, and a bustling foreshore area. You can swim, build sandcastles, or take a boat cruise on the stunning Gippsland Lakes.

Stay: Lakes Entrance Tourist Park, BIG4 Waters Edge Holiday Park

As we wave goodbye to Winter, the golden sands and crystal-clear waters of these stunning Australian beaches beckon us! Each one presents a unique blend of natural beauty, thrilling activities, and laid-back vibes, promising an unforgettable summer holiday destination. So, pack your sunnies, bring your beach towel, and get ready for an epic beach holiday!

Don't just dream of Summer, get planning your next break today. Now it's your turn to tell us, which beach will you hit first?